Picking a color for interior walls can be a nerve wracking experience for many people. You end up purchasing a bunch of sample containers and then painting different areas of the room before realizing that you went in the wrong direction. Definitely not how I would like to spend a weeknight after work or a couple hours on a weekend morning. The following are a number of tips to help streamline the process and lead you to a color quick and easy.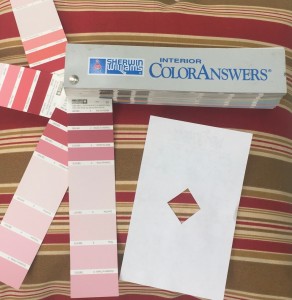 For inspiration look to some patterned upholstery, a colorful rug, or a large piece of artwork hanging on the wall in the room to be painted. If you want a neutral wall color, look to whites and grays found in the pattern.
Begin by choosing colors for the formal areas of your home (Living Room, Dining Room, and Foyer). Choose a color scheme for those areas first and then take one of those colors to use for the more private spaces as either a wall color or accent wall.
Many designers try and emulate color values that are found outside in nature. Darker colors for the floor, medium color values for what is straight ahead and lighter values for the ceilings.
Limiting your colors to just three is a strategy that can't miss. Don't be afraid to take a cue from your personal style. Look to your clothes. If denim is what you are most comfortable in, consider navy blue. If you like bright colors look towards using bright citrusy colors for accents walls or accessories. Any color will work as long as the style is yours. Other people may not choose it for their home, but as long as it is your style you can't go wrong.
The most important lesson is to have fun, experiment, and look forward to he enjoyment you will find in your updated space. Remember, if you get stuck or you need help, don't hesitate to call and we can help. We work with color all the time!